The Champions League last 16 is halfway done following this week's batch of second-leg matches. Below, we dissect the biggest talking points from the games in Europe's premier club competition.
Rolling out the red carpet for Mbappe
Real Madrid needed to go for at least a win at the Santiago Bernabeu, but their high defensive line against a team featuring Kylian Mbappe appeared an act of self-sabotage in Wednesday's first half.
Right-back Dani Carvajal's average position in the opening period must have been somewhere in the Basque Country.
Though the width offered by Nuno Mendes was useful – like when he collected Presnel Kimpembe's lofted pass and squared the ball for Mbappe's disallowed goal in the 34th minute – Paris Saint-Germain didn't need to devise an ingenious plan in or out of possession to eke out space for the French superstar.
There was a vast chasm behind Carvajal for a ball to be bounced into, and Mbappe was ready to scamper after it. It was that simple.
The earliest warning came in the eighth minute when a promising Real Madrid attack broke down, Lionel Messi shepherded PSG out of danger, and Neymar pushed the ball down Mbappe's corridor. The pace and angle on the pass wasn't quite right to fully unleash Mbappe, but he won his first one-on-one confrontation with Eder Militao before firing straight at Thibaut Courtois from a narrow angle.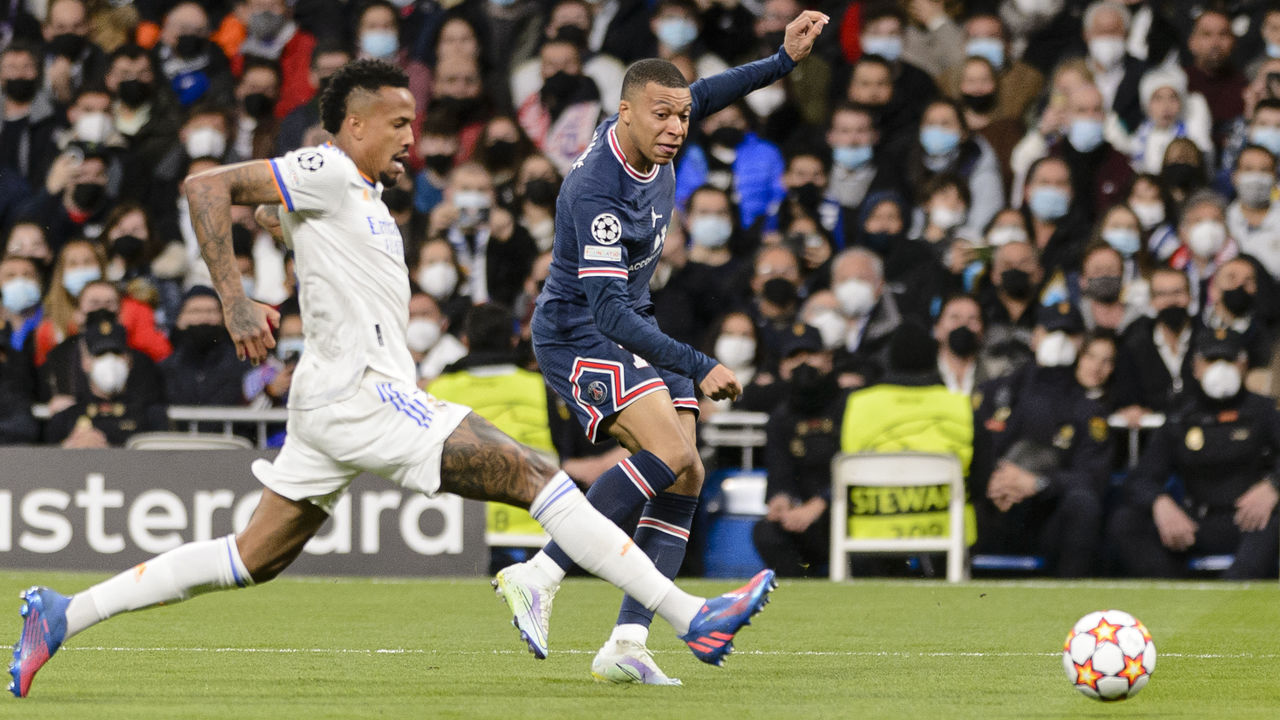 When it came, it was inevitable. Mendes easily pinched the ball from Carvajal and Neymar quickly swung at it as it bobbled toward the middle of the park. Mbappe was away and shaped to shoot at the far post before slamming inside Courtois' near post.
At that moment, it seemed as if Mbappe – who's widely reported to join Real Madrid this summer – was destined to send PSG through to the quarterfinals, and the hosts' tactics were certainly helping the 23-year-old's cause.
Madrid's risks pay off
Madrid didn't panic when they were trailing by two goals on aggregate. Maybe because they knew their game plan – pressing with a side of tackling and bruising – would eventually force the visitors into errors. They knew their chances would come.
And it worked. PSG cracked as Madrid's press intensified. Gianluigi Donnarumma coughed up possession and, with it, the visitors' confidence. Madrid won possession in the last 25 minutes. Ligue 1's leading lights faded.
Karim Benzema led the charge up front, and his quick-trigger hat-trick was just a reward for his efforts off the ball. Benzema attacked Donnarumma as the shot-stopper hemmed and hawed – something he's done to the detriment of his team time and again over his otherwise sterling career.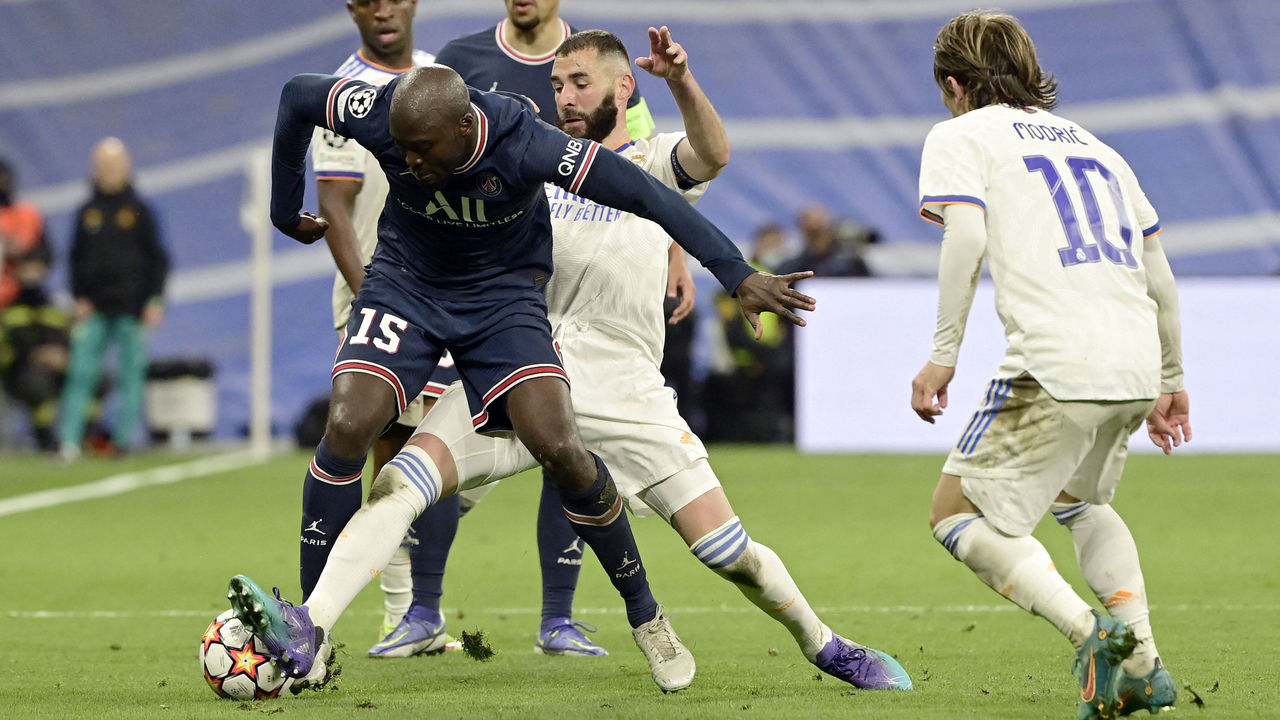 "When you take the ball off them, when you put them under pressure. They can't connect with the three up front," Benzema explained afterward. "It's the problem of all the teams that want to play the ball out from the back. When they're pressed, it causes them problems."
It rattled PSG to the core. Mauricio Pochettino's side began to think twice about where and when to move the ball, and those extra few seconds in possession proved fatal. Ancelotti's substitutions turbo-charged Madrid's press, with Rodrygo and Eduardo Camavinga bringing energy to the flanks and midfield just as PSG appeared to run out of steam. Even the usually calm and collected Marquinhos – at fault for Benzema's second and third goal – couldn't cope.
What happened before Benzema's winning tally was inevitable. Rodrygo swindled possession before feeding Vinicius Junior on the run, and Benzema was there to stab home Marquinhos' hurried clearance attempt. Though the press took a while to truly wear out PSG, it won Madrid the game.
Alaba shows leadership
David Alaba kept the game close when it was still hanging in the balance. As Mbappe ran for a dangerous pass in the penalty area, the Austrian international galloped stride for stride and blocked a shot that could've given PSG a 3-0 on aggregate with barely a half-hour remaining in the tie. Alaba had to be perfect, and he was.
His composure at the back gave his teammates the peace of mind to push forward and seek the goals they needed to overturn the tie. They knew Alaba could sweep up any mess they left behind as they chased glory. And when he spotted an opportunity, Alaba even joined the attack, entrusting defensive partner Militao to anchor the backline.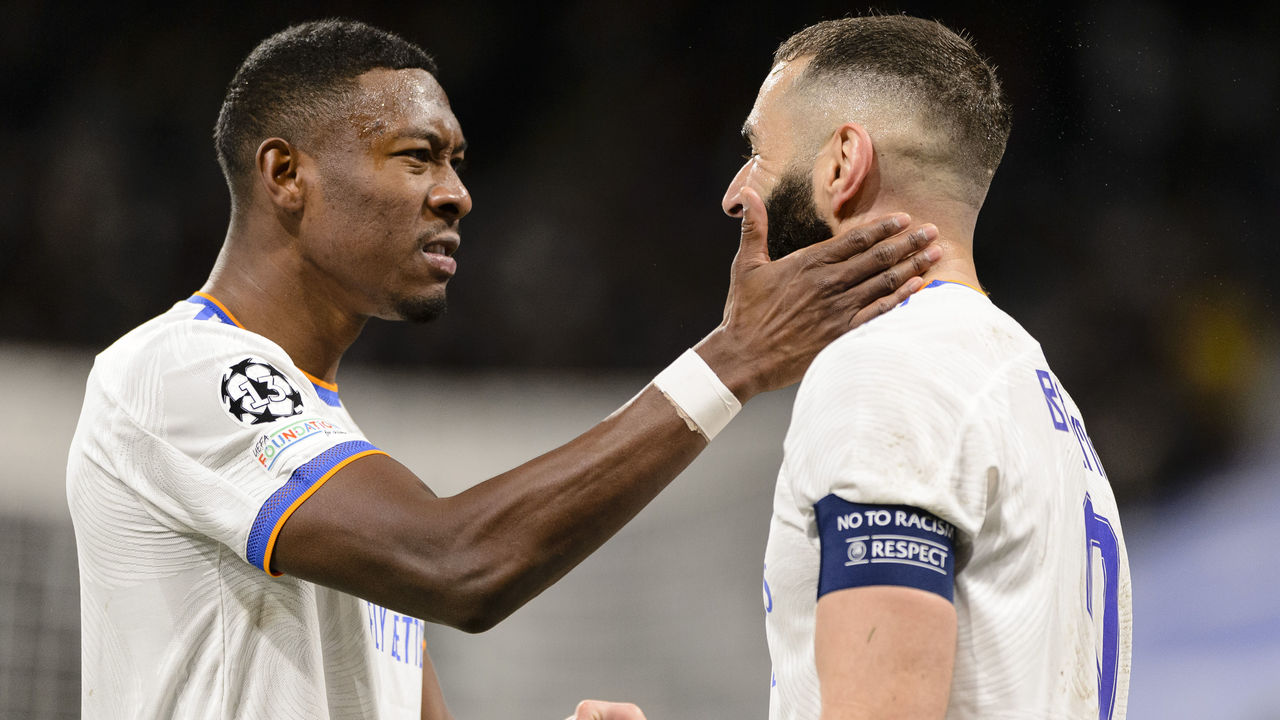 Showing a strong command of the space around him, Alaba directed the play; he offered words of support when Militao fell injured, willing him to play through the pain of an apparent knee injury, and celebrated with the fans by lifting a chair over his head. The fans at Santiago Bernabeu ate it up. He was leading in every way.
Sergio Ramos used to do these kinds of things for Madrid. On Wednesday night, Ramos, now a player for PSG, was watching from afar, missing action because of injury.
Where do PSG go from here?
A Paris Saint-Germain postmortem following a Champions League collapse has become an annual tradition. And even with Messi joining the club last summer to arguably complete the most star-studded attack in football history, we're at it again.
However, perhaps more than any other European elimination that preceded it, this mishap feels like the end of an era for PSG.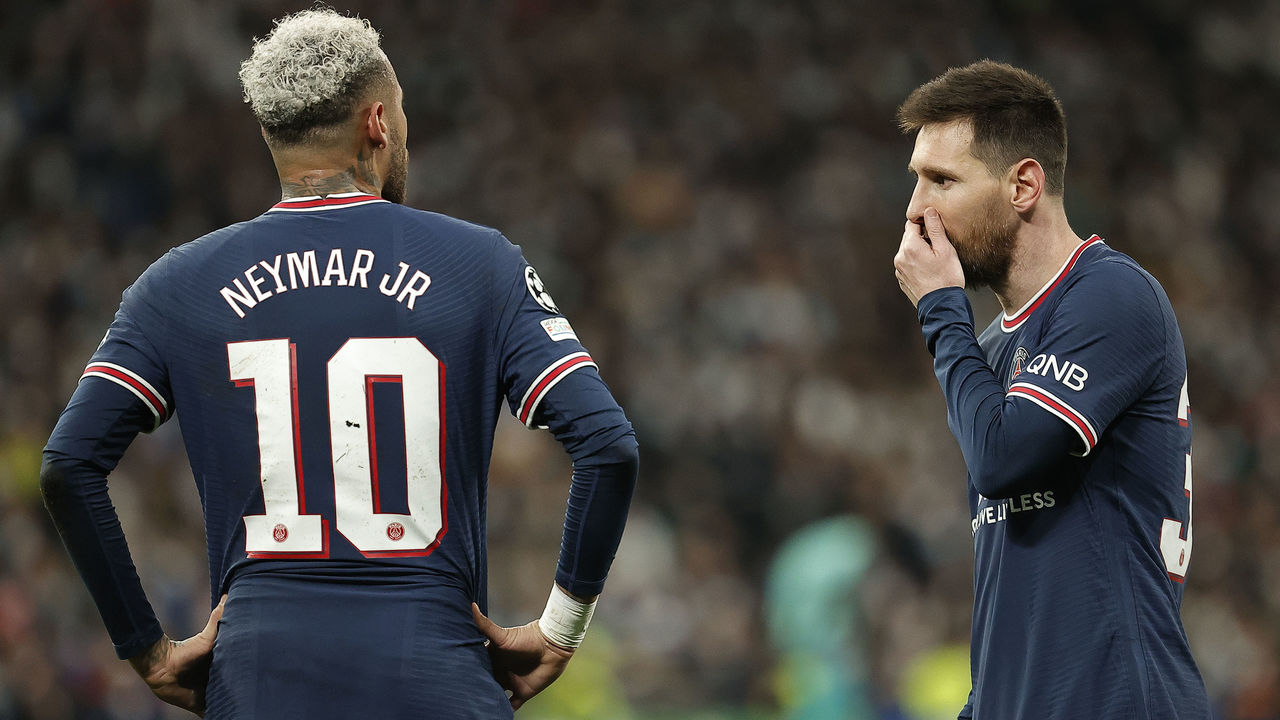 Mbappe's departure on a free transfer seems inevitable – he only has 16 weeks left on his contract. Angel Di Maria, who was brought on as a late substitute against his former club, is also nearing the end of his deal. He'll have a much quieter exit after the 34-year-old's regression became glaringly obvious this term.
There are eight more players in Mauricio Pochettino's squad aged 30 or over, including four central midfielders and the oft-frustrating figure of Neymar.
Neymar's commitment to some of PSG's matches has been questionable since he moved to the French capital in 2017, but his dedication to the whole Qatari project will surely be tested if Messi's domestic performances don't improve and Mbappe leaves. Regular Ligue 1 titles simply aren't enough for a player of his repute – whether you think his lofty standing is deserved or not.
PSG could be on the verge of an extensive and expensive rebuild.
City's goalless draw not a wasted exercise
Few people were focused on Manchester City's 0-0 draw with Sporting CP as Real Madrid and PSG battled away in Spain, but it wasn't a waste of time for Pep Guardiola. The tactician was able to make some changes to his lineup – some enforced by a depleted defense – that gave him hints at who can deliver during the business end of the 2021-22 campaign.
Despite the devastating scenes in his native Ukraine, Oleksandr Zinchenko contributed at both ends of the pitch, attempting two shots and producing some fine deliveries while he completed three tackles. On the other side of the defense, teenager CJ Egan-Riley – whose start made him the first of City's three Champions League debutants on Wednesday – seamlessly slotted into the senior ranks and was composed in possession.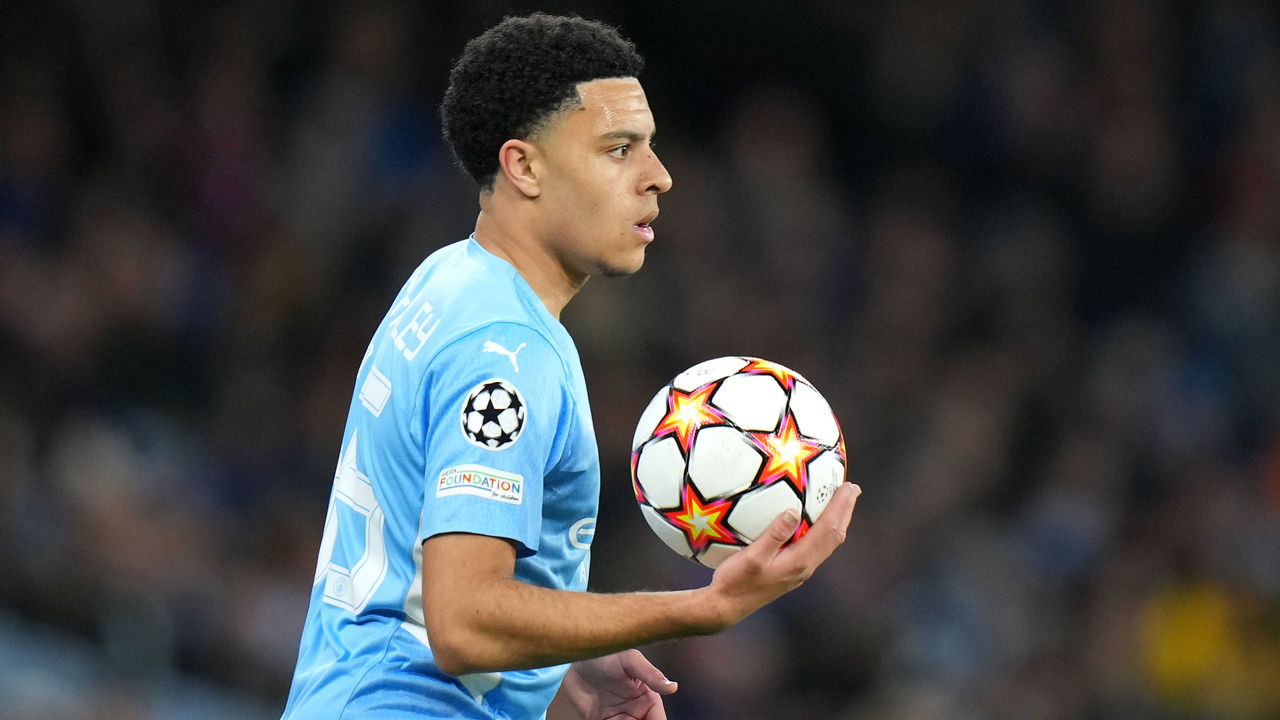 At the other end of the age scale, 36-year-old Fernandinho was faultless and will continue to be a key deputy to Rodri in what's likely to be his final season with the club. And Gabriel Jesus, who has been instrumental in several huge matches over Guardiola's tenure, was unlucky to have a penalty turned down and a goal disallowed. He could also be a valuable attacking option as the season winds down.
But there was one negative from the midweek exercise. Raheem Sterling could've padded his stats after three goals and two assists in the Champions League before Sporting's visit, but a soft shot near the end of the first half and a lashed effort at the side-netting in the final minute meant City didn't add to their 5-0 aggregate advantage. It was a frustrating evening for the Englishman.
Sterling ended a prolonged spell of poor form in November, and Guardiola can't afford for the 27-year-old to slump again.
Here are the main talking points from Tuesday's matches …
Inzaghi and Sanchez let Inter down
Alexis Sanchez's red card spoiled what could've been a memorable night for Inter Milan. Lucky to escape with just a warning when he slid studs-first into Thiago Alcantara to end the first half, Sanchez was sent off for another overzealous tackle on Fabinho in the second. The red card – brandished minutes after Lautaro Martinez's wonderful goal had offered Inter hope of an unlikely comeback – came at the worst possible time. Up a man for the remaining 25 minutes, Liverpool wrestled control of the tie and advanced 2-1 on aggregate.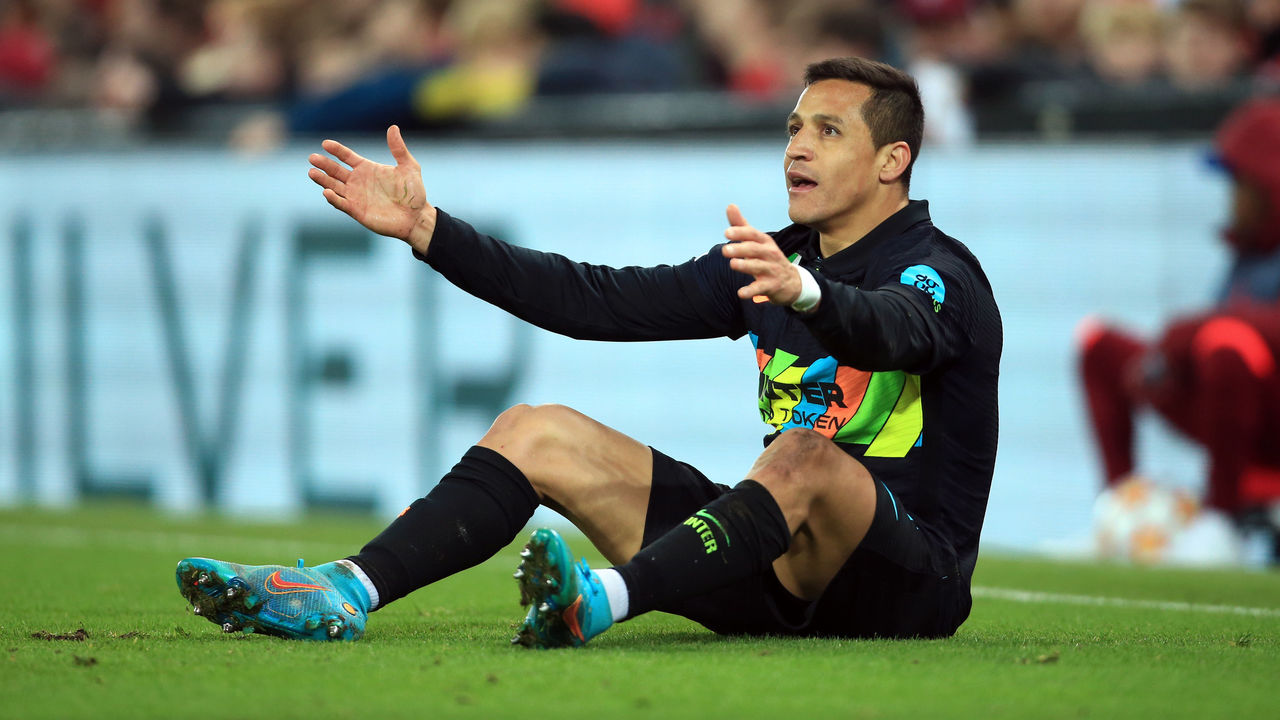 Sanchez may have cost his team, but manager Simone Inzaghi allowed the situation to spiral out of control. By choosing to keep Sanchez on the pitch, Inzaghi overlooked his panicky play and the team's lack of offensive production; Edin Dzeko, the club's leading scorer with 16 goals in all competitions, remained on the bench. Joaquin Correa, a similar darting presence to Sanchez, could've offered the same speed and pressing ability, and with Inter needing goals, Dzeko, an expert in the air, could've offered them an additional outlet up top.
In the end, Inter finished with just six shots – only half of them on target – on a night they needed to score twice just to have a chance of reaching the quarterfinals. Meanwhile, Liverpool hit the woodwork three times. It could've been so different for the reigning Serie A champions, who still won on the night but ultimately paid too little attention to detail to get past Jurgen Klopp's side.
Mane slipping in big matches
Sadio Mane has four goals in his last eight appearances for Liverpool, which isn't exactly a drought, but his production against top opponents belies his recent scoring record.
Mane struggled on the left of Liverpool's front three Tuesday, with the majority of his touches coming well outside of the 18-yard box. Though his arching pass to Mohamed Salah in the 76th minute should've resulted in a goal, the Senegalese international still produced little substance in the most dangerous area of the pitch.
His performance echoed his relatively quiet outing in the first leg at the Stadio Giuseppe Meazza. Mane missed a clear header before making way for Luis Diaz in the 59th minute of that game, and he could only watch on the sidelines as his teammates, playing with renewed spirit, scored twice to win 2-0.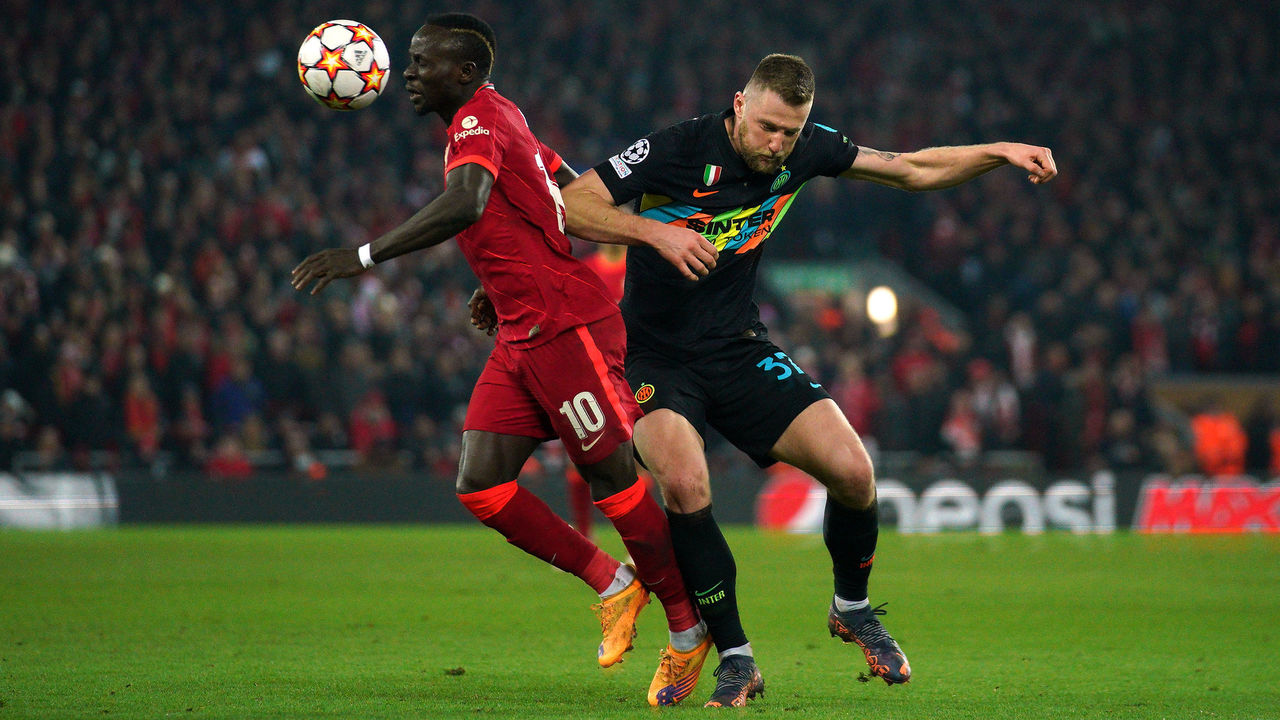 A similar storyline played out in the League Cup final against Chelsea. Mane registered just two shots playing as a No. 9 – one woefully wide – before coming off again in the second half.
Mane's struggles predate the Africa Cup of Nations in January: he was ineffectual in games against Leicester and AC Milan and went goalless from the end of November to the end of December.
With Diaz raring to go, Mane can ill afford to go missing down the stretch. Scoring against the likes of Leeds United and Norwich City isn't enough anymore. Liverpool have the depth to cope – and perhaps even play better – with Mane out of the starting lineup.
Bayern's brashness can't last
Julian Nagelsmann did it again. Kingsley Coman, Leroy Sane, Thomas Muller, and Serge Gnabry buzzed behind Robert Lewandowski just as they had in the first leg, with merely a midfield duo and defensive trio for protection.
It was an approach that indicated Bayern Munich wanted to rain punches from the first whistle, leaving Red Bull Salzburg bloodied and dazed before they could pick at the same vulnerabilities they exposed in the 1-1 draw to open the doubleheader.
Nagelsmann's options were somewhat limited. Midfielders Leon Goretzka and Corentin Tolisso are injured, and the only senior attack-minded players on the bench were Eric Maxim Choupo-Moting and Marcel Sabitzer. But it still took extreme bravery for the head coach not to dilute his ambitious plan.
Bayern were given a scare before two minutes elapsed. Karim Adeyemi stole the ball from Jamal Musiala – still learning on the job in a deeper midfield role – and cut it back for Nicolas Capaldo, whose straightforward finish was thwarted by Coman's heroic block.
That was it, though. The German champions were soon on their way to a 7-1 win. However, this wasn't necessarily a sign of things to come: Salzburg's individual errors and overall weakness certainly helped disguise an imbalanced and defensively susceptible lineup. Bayern can't afford to be so cavalier when they face a European heavyweight in this competition.
A victorious Champions League run requires a little more caution.
Lewandowski's unrivaled consistency
It wasn't a vintage hat-trick, but Lewandowski continues to produce numbers and prove he's one of the greatest strikers in the sport's history.
Lewandowski won both of his penalties through his technical excellence and slippery movement. The Polish marksman tickled a tricky pass with the bottom of his left foot and tempted Maximilian Wober into a clumsy challenge for the first spot-kick. For the second penalty, Lewandowski called the same unfortunate defender into action when he stepped across Wober and spun near the edge of the box.
The goal to complete his treble needed bounces off his shins and the woodwork before he tapped in – but can that be deemed fortunate when he's hounding defenders and so often in the right position? His finish took him to an incredible 42 strikes with little under three months of the season remaining. He's now scored 40 or more goals in seven straight seasons.
And at 33, there's little evidence he's slowing down.